Mission Statement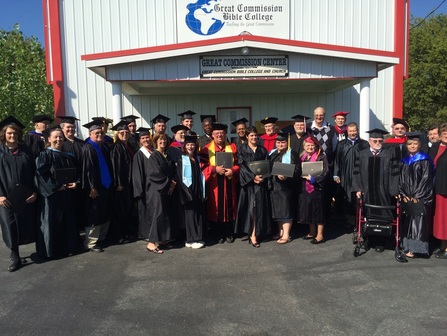 Some 2014 USA Graduates, Carl Junction, Missouri
The Great Commission Bible College Mission is to offer the best courses helping the student to become established in the word and prepare for the Ministry.
Our mission is the Great Commission . Our goal is to plant many Great Commission Bible Colleges and the message of the cross around the world, hopefully in every city!
We exist because of the Message of the Cross and the Great Commission and we are very grateful to our instructors who have made us what we are today.
In 2007, Apostolic Faith On-Line Bible Institute (Trinity) was founded by Dr. LJ Ehrlich. The name Apostolic Faith was confusing to many and did not tell who we were or what we are doing, so, to better identify our mission, the name was changed to Great Commission Bible College in 2012. Our enrollment has steadily increased since that time. The Great Commission Bible College proclaims the message of the cross and the Trinity of the Gospel.
Our goal is to provide education that does not just inform our students; to us, education has always been a mind, body, and spirit affair. By the time they leave our portals, our students are ready to take up their responsibilities in their chosen professions, prepared at a level that can only be called ordained of the Lord. Many graduating students open GCBC Distant Learning Centers in their community.
Even today, 2017, with students from 104 countries, we have an alumni that is active in helping GCBC grow! They are preaching, teaching the word and doing well for themselves throughout the world They have been kind enough to credit GCBC as a significant contributor in their success.
The flag is shown below the flags of the countries that have visited this site since January 1, 2011. You can view more details by clicking on the flag at the bottom of the chart. You can then print a map showing the countries where the visitation came from.
Help us push the Message of the Cross and the Great Commission into all the World for Jesus.
As you can see, the sun never sets on the Great Commission Bible College.
Current World Population::
GCBC Students: 8055