---
---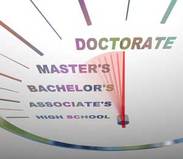 Level 6: PhD Doctorate
Degree in Ministry
BTH Phd Doctorate Degree in Ministry
66 Credit Hours (Instant Graded Courses only)
If the student has a Master Degree from GCBC or a Master from another college, there are 66 additional credits from 20 courses required and a 20,000 word dissertation. The 66 Ph.D degree credits will be from courses in the 700 and 800 series listed in the student handbook.
If the applicant has a Master Degree or the equivalent they may apply to be admitted to the PhD program. Students successfully completing Level Six may request a "Doctorate Degree" suitable for framing. There is a $35 charge , printing, handling and mailing fee. PDF copies emailed to the student are avaiable for a charge of $10
The PhD has 27 different designations listed below in the 900 dissertation listing. The PhD designation is determined by the name of the dissertation chosen by the student. See the list shown below or the student handbook for a listing of the designations and a better understanding of the 2 different Doctorate Programs. The 900 listings for the PhD are shown in the following list. The Dissertation courses can be found under the "Work My Lessons" tab in the "Instructor grading - Degree Pursued PHD" section.
---
---
PhD 27 different designations list: DISS900: Christian Ethics, DISS901: Christian Missions, DISS902: Building Churches, DISS903: Sex Behavior, DISS904: Personal Evangelism, DISS905: Library Ministry, DISS906: Collegiate Ministry, DISS907: Orphan Ministry, DISS908: Church Pastor, DISS909: Church Administration, DISS910: Church Government, DISS911: Teaching Ministry, DISS912: Children's Ministry, DISS913: Prison Ministries, DISS914: Christian Counseling, DISS915: Marriage Counseling, DISS916: Hospital Ministry, DISS917: World Religions, DISS918: Teaching Ministry, DISS919: Office Administration, DISS920: Christian Education, DISS921: Early Church History, DISS922: Pentecostal History, DISS923: Christian Worship and Praise, DISS924: Church Finance, DISS925: Church Government, DISS926: Student Choice, DISS927: Message Of The Cross